Florian Greenhouse Donates to Group for Children with Autism
---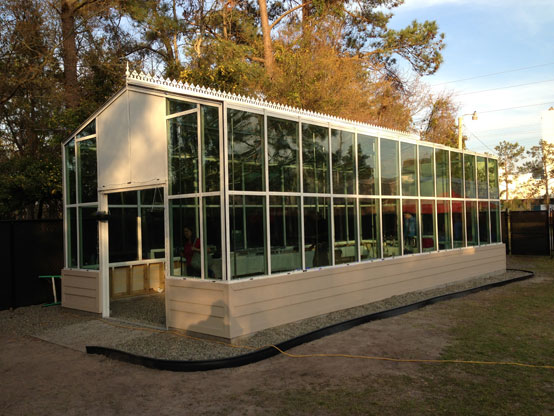 Florian Greenhouse LLC is proud to donate this Geneva © Horticultural Greenhouse to SOS Healthcare Inc.
---
On April 2, 2014, community members came together at the greenhouse site location to celebrate the children that are a part of SOS Healthcare, Inc. and those around the world affected by Autism. We are truly grateful to all of the help that went into our wonderful celebration on World Autism Day! It takes a team to make any event happen and we are so thankful to all of those that are a part of SOS Healthcare Inc.
"Thank you to our incredible volunteers who are helping build the new green house at SOS! This will make a difference every day in the lives of people with autism with their incredible donation of the greenhouse, We are so grateful!" exclaimed an SOS spokesperson. This greenhouse will expand their current Green Piece Garden Project and allow children and adults with Autism Spectrum Disorders an opportunity  to enjoy outdoor activities that will teach them agricultural and vocational skills while improving their social skills as they work together to build the gardens and tend to the produce. Horticultural training is individualized to the skills of the person and include - planting seeds, watering, crop transplantation, arranging flowers and etc. 
SOS Healthcare, Inc. is a non-profit organization that services children with Autism in Horry, Georgetown and Charleston counties. These services range from ABA therapy, after-school programs, the Making Changes consignment store and more. The goal is for the Florian Greenhouse to allow the Green Piece Garden Project to become a year-round program and for those participating to learn vocational skills that they could use elsewhere in the workforce and beyond. The sense of pride that comes along with creating something with your own hands is priceless. "What a wonderful gift we have received!" She added, "our new garden program will follow shortly. Stay posted for details and photos."
About the Greenhouse
The donated Geneva © horticulture greenhouse is a state of the art commercial grade growing greenhouse that has 1316 Square foot of glass area combined with 2,961lbs of aluminum and 4,606Lbs of glass the Estimated cost of the structure numbers around $50,000.00 dollars. The Growing Greenhouse is complete with automated roof venting systems exhaust & louver fans throughout, High performance Low-E Glass, and designed to provide a comfortable environment year round. Florian is one of the United States largest providers of high performance commercial & residential greenhouses second to none in the industry.
The Greenhouse Installation was a combination of efforts. There were visiting volunteers from the University of Alabama who decided to spend their spring break helping our community, the local Boy Scouts of America troop, local contractor Greg Hastings, and various Florian employees.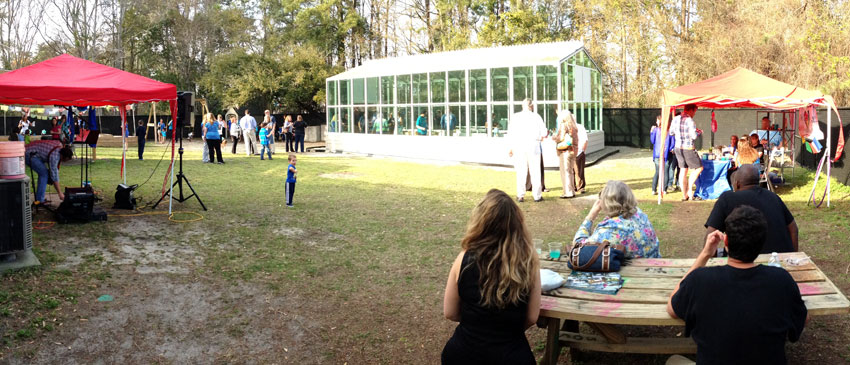 Greenhouse Grand Opening celebration on National Autism Day Wednesday, April 2nd 2014 .
Challenges the Autistic Community Faces
This year in the United States alone, the number of 18 year-olds with autism entering into the workforce or higher education will reach 50,000.  The challenges these individuals will face when trying to find proper job training and employment once they finish their education is dire. New studies suggest that the developmental disorder is on the rise, with statistics stating that 1 in 68 kids is on the autism spectrum; a 62% increase since 2006.
Along with a dramatic rise in the diagnosis of Autism Spectrum Disorders there is a need for greater acceptance of autism within society and diversity in the community and workforce. SOS Healthcare Inc. works to give more opportunities for people with Autism and it is now time for the rest of society to follow suit.
Link to SOS Healthcare Facebook page to follow their progress and support their efforts - click here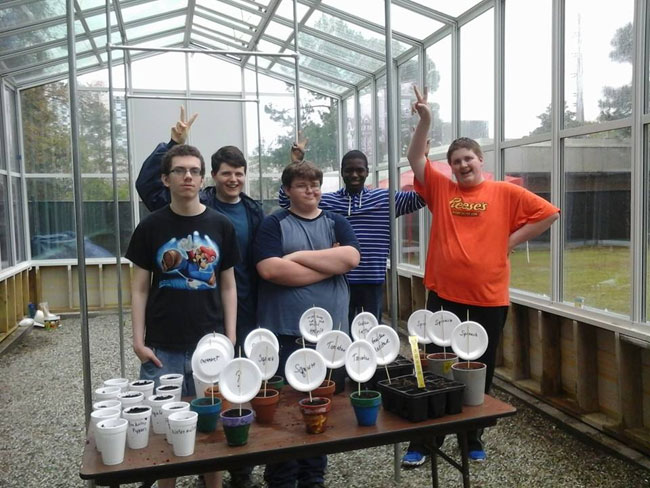 While waiting for our benches and supplies to arrive the kids have already started planting vegetables.
---
An Organic Greenhouse Run by Farmers With Autism
---
Home - Sierra Room Sun room - Geneva Greenhouse - Woodhaven Solarium - Monarch Conservatory - Commercial Sales