PAR 100
The PAR 100
Replaces 200 watt Metal Halide or High Pressure Sodium
Covers 24" x 24" areas

Perfect for small tents and cloners
Produces1/3 the heat (340 btu/hr) of comparable HID lamps
Does not require ducting and allows plants to get closer to the lamp without damaging them
Consumes 70% less power than comparable HID lamps
One broad spectrum lamp takes your plants from vegetative thru flowering with no relamping
Spectrally stable phosphor blend for repeatable crop after crop results
Long 100,000 hour rated lamp life
Maintains 90% intensity @ 70,000 hours
Universal driver rated 120-277v 50/60hz
98% total reflectivity means more light makes it the canopy
10 year prorated warranty on lamp and driver
Total consumed watts at the plug: 100
Watts/Region: (V) 10.9, (C) 6.0, (F) 10.6
Current Draw: 0.83A @ 120VAC | 0.42A @ 240VAC
Replaces 200 watt Metal Halide or High Pressure Sodium
Per Light $480.00
PAR 200
The PAR 200
Replaces 400 watt Metal Halide or 400 High Pressure Sodium
Covers 36" x 36" Areas
Produces1/3 the heat (680 btu/hr) of comparable HID lamps
Does not require ducting and allows plants to get closer to the lamp without damaging them
Consumes 70% less power than comparable HID lamps
One broad spectrum lamp takes your plants from vegetative thru flowering with no relamping
Spectrally stable phosphor blend for repeatable crop after crop results
Long 100,000 hour rated lamp life
Maintains 90% intensity @ 70,000 hours
Universal driver rated 120-277v 50/60hz
98% total reflectivity means more light makes it to the canopy
10 year prorated lamp and ballast warranty
Total consumed watts at the plug: 200
Watts/Region: (V) 21.1, (C)11.6, (F) 20.5
Current Draw: 1.67A @120VAC | 0.83A @ 240VAC
Replaces 400 watt Metal Halide or 400 High Pressure Sodium
Per Light $610.00
PAR 420
The PAR 420
Replaces 1000 watt Metal Halide or 750 High Pressure Sodium
Covers 48" x 48" areas
Produces1/3 the heat (1,450 btu/hr) of comparable HID lamps
Does not require ducting and allows plants to get closer to the lamp without damaging them
Consumes less power than comparable HID lamps
One broad spectrum lamp takes your plants from vegetative thru flowering with no relamping
Spectrally stable phosphor blend for repeatable crop after crop results
Long life 100,000 hour rated lamp
Maintains 90% intensity @ 70,000 hours
Universal driver rated 120-277v 50/60hz
98% reflectivity means more light makes it to the canopy
10 year prorated lamp and ballast warranty
Total consumed watts at the plug: 420
Current Draw: 3.5A @ 120VAC | 1.75A @240VAC
Replaces 1000 watt Metal Halide or 750 High Pressure Sodium
Per Light $795.00
Pontoon Light Accessories
PAR 420 With Pontoon
By combining the energy efficiencies, low heat and long life benefits of both Induction and LED technologies, we are able to provide the indoor gardener with ideal spectrums and controls that one would only had expected to be found in ideal outdoor conditions.

How Does it Work:

During Lights On Cycles: We run the Deep Red, 660nm diodes to meet an important Chlorophyll B peak absorption spectra for flowering thereby increasing flowering sites. Strategically placed diodes on 10⁰ planes allow for even canopy coverage and excellent penetration. This is achieved without burning the canopy from high intensity diodes that are usually aimed straight down at the canopy. Diodes are asymmetrically placed to interlace light distribution patterns with the opposing Pontoon and of any adjacent fixtures similarly outfitted with Pontoons.

During Lights Off Cycles: It's noon on a cloudless day and the sun paints the sky a bright Blue. As the sun begins to set, the Blue is gradually replaced by increasing levels of Red to Deep Red and finally to Far Red. In nature it is this Far Red 730nm wavelength that triggers the Phytochrome, or flowering response, to occur within seconds of sensing that wavelength exclusively as the sun sets over the horizon.


For an indoor garden, the light cycle for flowering may typically be set for a 12 hour on and 12 hour off cycle. With the plants going instantly into total darkness the plants will require a 2 hour relaxation period before actual flowering begins. Obviously this has never been the most efficient way of maximizing flower production and density. Reducing that indoor relaxation period, by mimicking nature, is critical to increasing fruit and flower size.


Our patented Pontoon design utilizes a built in control circuitry that senses once the 660nm diodes turn off. Once off, the 730nm diodes, powered by Lithium-ion batteries built into the Pontoon, will run the 730nm diodes only for approximately 5 minutes at which time they turn off in gradual steps decreasing the normal indoor Phytochrome switch from 2 hours to less than 10 minutes. Indoor gardeners may wish to adjust their lights on photoperiods for an extra hour or more to take advantage of the indoor plants natural photobiological response to this wavelength.
Pontoon Option Per: $645.00

PAR 420 & Pontoon: $1,410.00
VPAR 420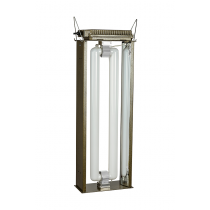 Our VPAR series induction grow lights
VPAR lights are the perfect solution for the indoor garden where tall plants and dense canopies make it difficult for overhead lighting to penetrate down into the lower branches for increased crop production. Click here to learn more.

Emits light out of both sides of the fixture, in a 300° pattern to optimize vertical canopy light distribution.

Stackable construction allows our VPAR fixtures to be joined together as plant heights increase.

Produces 1/3 the heat of comparable HID lamps. Allows lamps to get closer to plants without damaging them.
Consumes 70% less power than comparable HID lamps.
Single broad spectrum lamp takes your plants from vegetative thru flowering with no relamping.
Long 100,000 hour rated lamp life with only a 10% PPF depreciation over 70,000 hours.
Consistent intensities and stable spectrums for years of high quality repeatable crop production.
Comes fully assembled. No tools required for easy installation.
Available in two per box packaging options
10 year prorated lamp and ballast warranty
Universal power supplies 120-277v – 50/60 Hz
Power Draw: 420watts
Current Draw: 3.5 @ 120VAC | 1.75A @ 240VAC
Per Light:

$795.00
Aqua PAR series
Aqua-PAR Submersible Lamp
Originally designed for underwater algae production this product consists of three separate components which when operated together are designed to be used safely as a submersible,broad PAR spectrum lamp that improves underwater light distribution and intensities which can result in increases in concentrations and decreases in times to harvest for plants in any fresh or saltwater environment.
Plastic V Clips allow the lamp to be positioned in either a vertical or horizontal orientation.
Standard 10 ft. cable with custom lengths available upon request.
Submersible, electrodeless Induction lamp attached to plastic bracket.
The housings are IP65 rated but should not come in contact or be submerged in water. The driver utilizes a positive locking Neutrik outlet.
When mounted in the vertical position airlines can be added to the bottom of the lamp to keep plant matter from accumulating on the lamp surface.
Specifications

IP65 Driver (Ballast) Housing protects the internal electronic components from high humidity conditions near the tanks. Drivers should never be submerged in the water. A locking Neutrik plug connects the submersible lamp to the driver.
Universal Driver will operate on any supply voltages between 110-277 VAC 50/60 Hz.
Light Output (PPF): 408 μMol/m2-/s-1
Wattage: 330-340 watts
Heat Contribution: 1023 BTU/hr
Heating Rate (100 gal of water): 1.15° F (0.64°C)/hr
Temperature Equilibrium: ~4°F rise above ambient in 100 gal open tank. While the thermal contribution of our lamps are easily managed the heat exchange valuations will ultimately be affected by volume of water, tank material, surface area of heat transfer and open or closed top tanks to name a few.
Buoyancy: A 5 pound scuba weight will submerge the lamp.
Maximum Rated Depth: 20' (6 meters).
Per Light:

$1,435.00