From: Charlie
Sent: Wednesday, November 05, 2014 2:22 PM
To: Steve Franza
Subject: Re: Order number # 12569 "completed"
Steve
I finally finished the Sunroom, just barely beating the winter here. Two days after I moved all the flowers inside, we had our first heavy frost.
I think it came out pretty good, especially since I completed all work completely by my 70-year-old self.
I am attaching some photos.
One pic shows view thru the door from inside the house.
Two pics show how I got several hundred-pound pots up those two sets of steep steps, by my self.
The last pic, shows how the grow-lights look at night. (the neighbors probably hate that)
Thanks for all your help.
Charlie
---
From: Gwenn and Tygar Leveque
Sent: Wednesday, December 11, 2013 9:19 AM
To: Dave Anderson
Cc: Rodney Morris
Subject: "EARLY" winter in Port Wing
This is what 18+ inches of snow, -16 degrees temps (50 degrees in the solarium without a heater) and wind chill of - 45 degrees and lake effect snow looks like at 7 am. Aren't you happy to be where you are? Oh, forgot, no sun for days. Poor solarium has not had a chance to show it's stuff. We are hopeful for a change soon.
Happy Holidays to you!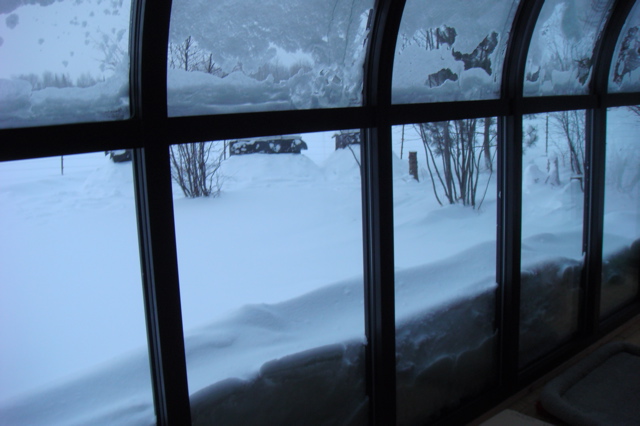 ---
"Thank you to our incredible volunteers from Florian who are helping build the new green house at SOS! This will make a difference every day in the lives of people with autism with their incredible donation of the greenhouse, We are so grateful!" exclaimed an SOS spokesperson. This greenhouse will expand their current Green Piece Garden Project and allow children and adults with Autism Spectrum Disorders an opportunity to enjoy outdoor activities that will teach them agricultural and vocational skills while improving their social skills as they work together to build the gardens and tend to the produce. Horticultural training is individualized to the skills of the person and include - planting seeds, watering, crop transplantation, arranging flowers and etc.
---
From: Craig Wallace
Sent: Friday, June 20, 2014 8:34 PM
To: joel lombard
Subject: Pictures
Joel,
The issue I have, I shot a skirl in the greenhouse, and missed the critter but hit the D light! (see picture)
Pictures file names describe the view. It really is remarkable after all these years it is in such good condition.
Two of the plants with the long roots that hang down are award winning orchids from the Cleveland Botanical Garden in 2012. The greenhouse has an automatic misting system that allows very accurate control of the humidity.
We have enjoyed our greenhouse.
Craig
---
Sent: Monday, May 19, 2014 9:45 PM
To: Steve Franza
Cc: Mark
Subject:
Steve, I want to take this opportunity to personally thank you for your professionalism in the replacement of my English Greenhouse patio with the Sierra Room. I would especially like to recognize Mark Maixner from MTM Metal and Glass for his expertise in the installation of the Sierra Room. As you are aware, I originally had an English Greenhouse that the sliding doors barely worked and it leaked, which caused damage to the wood sills. Because of these and other problems, the English Greenhouse Company went bankrupt. Therefore I had to replace the entire structure. Mark carefully removed the English Greenhouse, not damaging the existing tile floor and hardwood walls. The istallation of the new Sierra Room went very smoothly. Mark has a very strong work ethic, not taking any breaks or even time for lunch. Any questions that I had during this installation, Mark was very accomodating. Since the original sills were damaged by the water leakage, Mark was able to replace them at a very reasonable price. The new sills look 100% better than the original ones. He also professionally replaced the wood trim around the hardwood wall. Over the past few years, my wife Jackie and I have had a lot of home improvements done. As you know, with any renovation, it usually involves some level of stress. I can honestly say that you and Mark have made this greenhouse replacement an overall stress free experience. Since the completion of the Sierra Room, my wife Jackie and I have had many visitors over to the house who we entertain in the Greenhouse. We often find ourselves sitting out in the greenhouse in the evening just enjoying our yard and Koi pond. I highly recommend the Florian Company along with MTM Glass and Metal for the installation of the Sierra Room!!! Thanks again for your professionalism. John Petronglo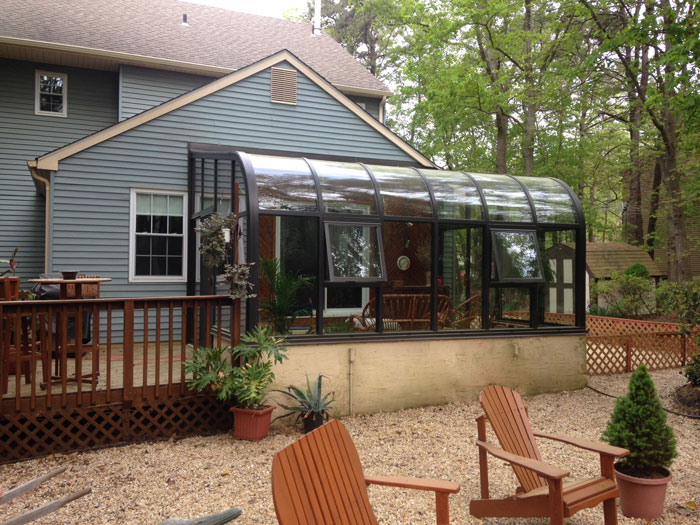 ---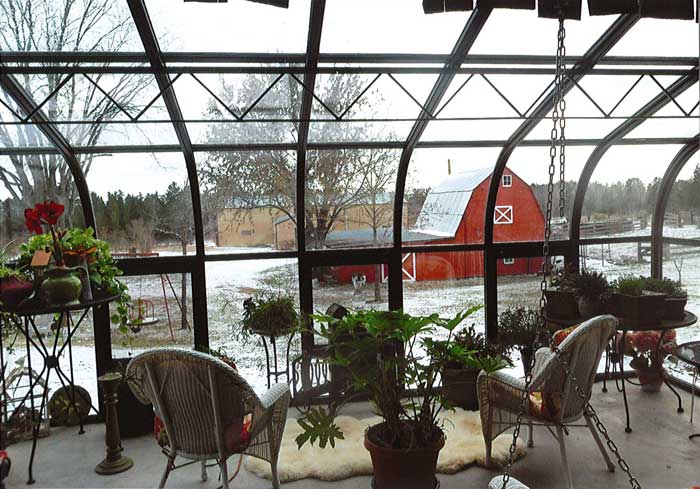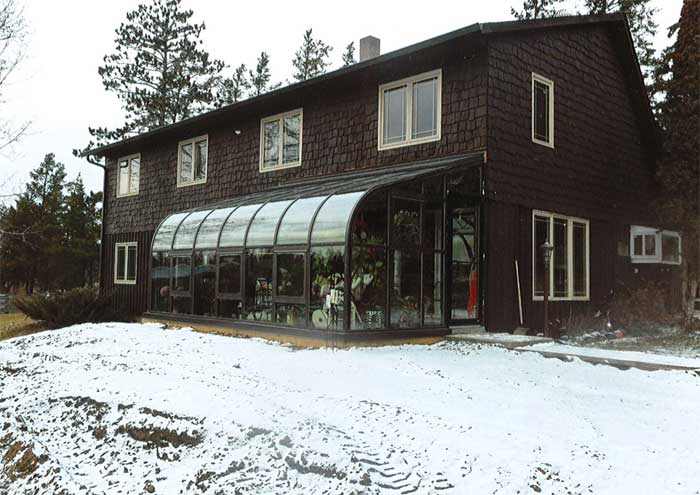 ---
From:
Bob Gaffney
Sent: Monday, December 31, 2012 10:00 AM
To: Steve Franza
Subject: Fwd: Greenhouse pictures
Steve, These are 2 pictures of my Greenhouse after Hurricane Sandy flooded our home. We had four and a half ft. of water in the greenhouse. Our home sustained a tremendous amout of damage, as you can image. Other than loosing a number of my plants , the greenhouse stood up to multiple storm surges. This is my 2nd Florian and I am very happy it survived the worst storm the U.S. has ever had. yours, Bob Gaffney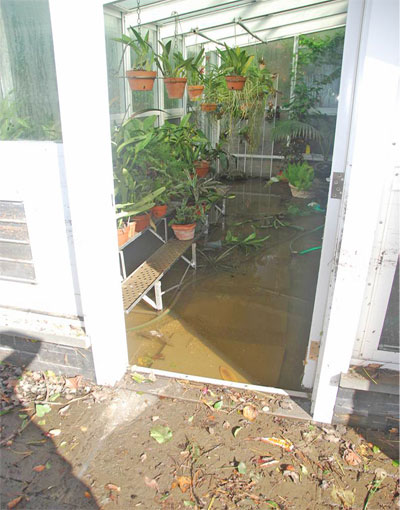 AFTER HURRICAN SANDY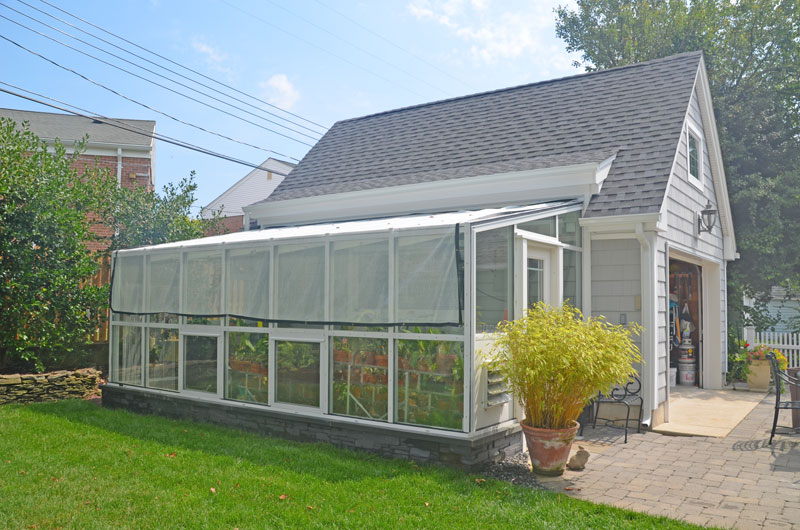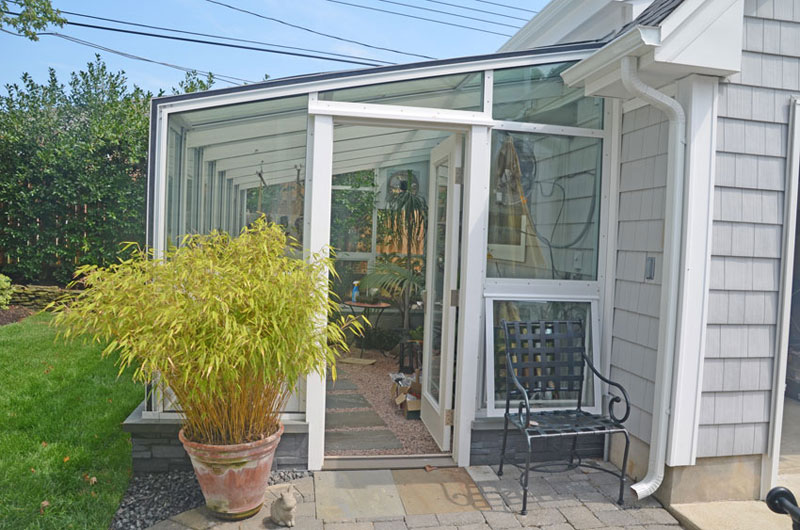 ---
----- Original Message -----
From: Ana Maria Kruger
To: Dave Anderson
Sent: Thursday, September 01, 2011 8:38 AM
Subject: 2 iPhotos for your collection
Mr. Dave Anderson,
RE: 2 photos
The glass house made it thru Hurricane Irene in spite the water flood, waves and 90's MPH winds.
Just for your photo collection. I wished you made my plants too, they did not fare s as well.
Ana Maria Kruger
Watch the slide show of amazing hurricane photos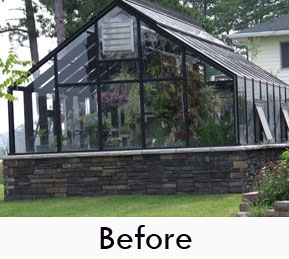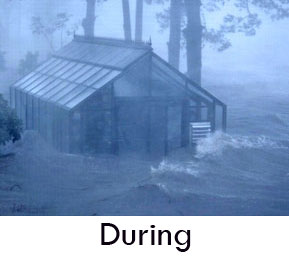 ---
Sent: Thursday, October 27, 2011 10:21 AM
To: steve@floriangreenhouse.com
Subject: done
Hello Steve
Well, Diane and I finished the green house on aug/20/11. We want to thank you and your staff for all your help on building something that we had no idea what we were about to embark on. But it was fun. We will definitely recommend people to call your company for any of your products.
Take care
Enjoy the holidays
Joe & Diane Neves
---
---
----- Original Message -----
To: dave@floriangreenhouse.com
Sent: Monday, December 21, 2009 11:49 AM
Subject: Green house installation- Turbeville
Dave,
I just want to thank you for Florian's support with Mr. Turbeville green house installation in Bartlett , TN.
Both during the fabrication stage and the installation itself, your cooperation has been paramount to a great final product.
I would also like to extend my recognition to Arthur Wright with IndoorSun for his outstanding professionalism and his proactive way while dealing with the issues that arose during the green house installation.
Once again, thanks for your support.
Merry Christmas
Bernardo Zapata
---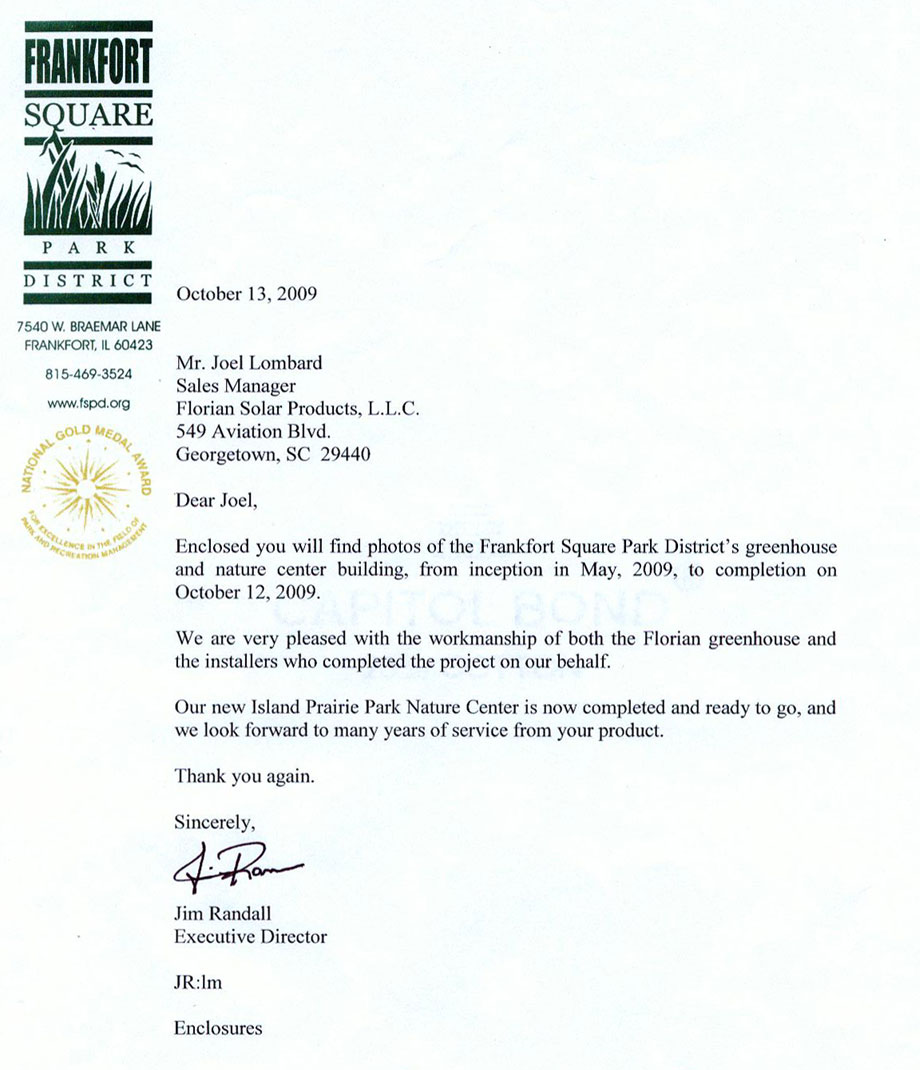 ---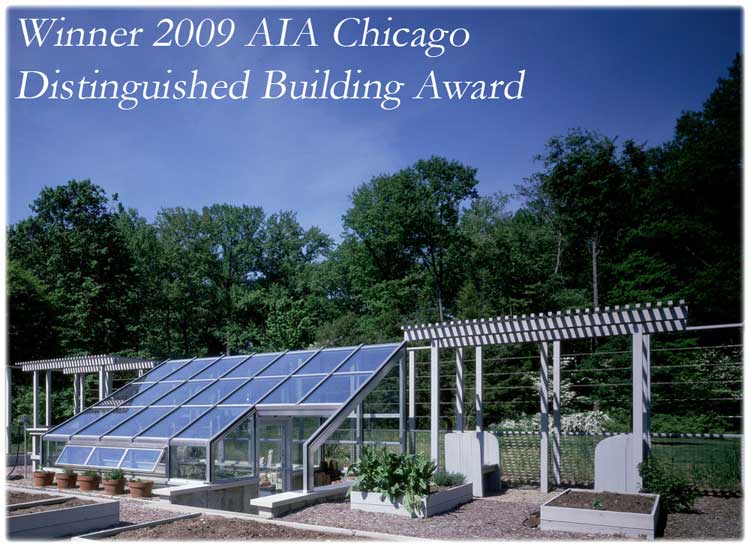 Sent: Friday, October 16, 2009 11:38 AM
Subject: Greenhouse DBA Submission
Rick Phillips asked me to forward the attached submission to the AIA Chicago Distinguished Building Awards. Please accept this as our thanks to you for all you did to make this an award-winning project. It is one of 9 entries from a field of 150 submissions in all building categories to win a 2009 AIA Chicago Distinguished Building Award.

Congratulations!
Shane Staley
for Frederick Phillips and Associates
Shane Staley - LEED AP for
Frederick Phillips & Assoc., 1456 N. Dayton St., Suite 200 , Chicago IL 60642

tel: 312 255 0415 fax: 312 255 0446
Architecture – Planning – Interior Design
shane@frederickphillips.com
http://www.frederickphillips.com
---
-----Original Message-----
From: Jim & Nancy MacRae
Sent: Thursday, October 08, 2009 8:03 PM
Subject: Photos of our Sunroom

Dear Jim,
Here are a couple of photos of the solarium, which we are enjoying
immensely. Let me know if you want more internal or external views.
Best, Jim
---
Hi Joel – well, as of yesterday, all is finally done! See attached PDF doc with pics! Thanks for all the help and support – it has been a longer journey that I imagined it would be, but the result is wonderful!
Cheers -
Don Doehla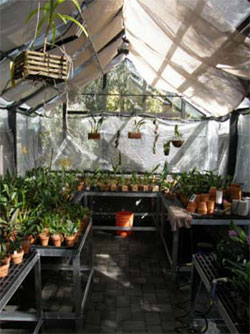 ---
Hi Ross
"People have been going around and looking at it, it is so novel down there. "
"Since everyone is expecting them to be 25,000 or more they are surprised to find they cost less than 10,000."
"The packing was fantastic, nothing broken and with that packing nothing could have been broken. They were easy enough to install, the man who did it had never done anything like that before. "
"I will send you some nice photos in November when the inside looks better."
Beverly
---
Sent: Monday, March 17, 2008 9:57 AM
Subject: Pictures of Completed Room
Dave,
Thanks to you, here are shots of the completed room. You cannot even imagine the satisfaction I have.
Pat Littier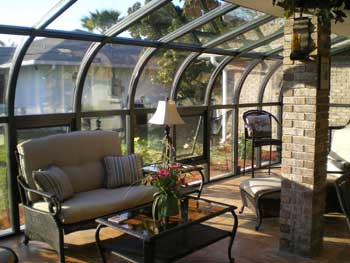 ---
----Original Message-----

From: cheryl
Sent: Tuesday, November 20, 2007 9:26 AM
Subject:
John, Wanted to send you some pics of our greenhouse. We are very happy with the result. You have an excellent product and Jeff did a super job assembling it. I am sure we will enjoy it always. I am including one pic of the trim he had to cut to join it to the house. It is cedar and it matches the contours of the logs and is airtight. Let me know if this comes through alright.
Thanks, Cheryl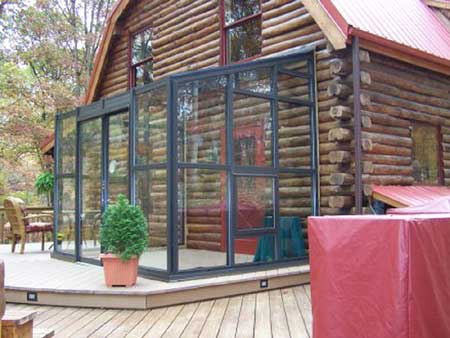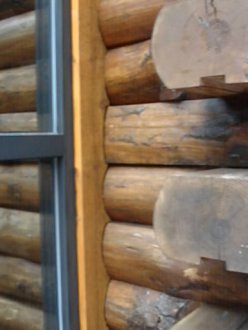 ---
Joel,
I just wanted to let you know that our greenhouse is up. Rod Morris and his crew finished up yesterday evening and did a really nice job getting everything put together. They were very professional and really good people to work with
Your greenhouse looks very nice (like it's always been there attached to our house). I think my contractor was impressed with your product, too, and may consider Florian as an option on some of his other projects. Thanks again for your help and advice through this whole process.
Regards,
Saul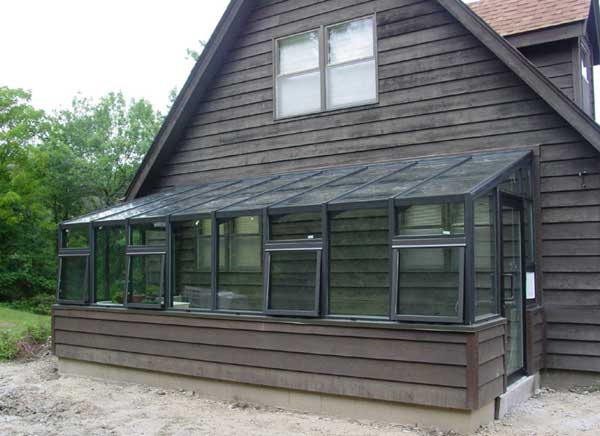 ---
-----Original Message-----
From: Sonya Hawley -Sent: Tuesday, September 19, 2006 5:11 PM
To: john Subject: My Florian near Seattle, WA
Hi John,
It has been about 4 years to the day that you worked with me on choosing a Florian greenhouse. It took us a couple of years to finish, but we are very pleased. We ended up with an 18" sunken floor that we applied flagstone and rock walls. We are using it more for an outside room and overwintering space for my less hardy plants. It is great for the Seattle area as it gives us the ability to be closer to outside during the long rainy season. I am sending a picture that I would love to see on your website's photo gallery. Thanks for all your help in getting me my greenhouse. We absolutely love the Florian product.
Thanks,
Sonya Hawley
Lake Marcel, WA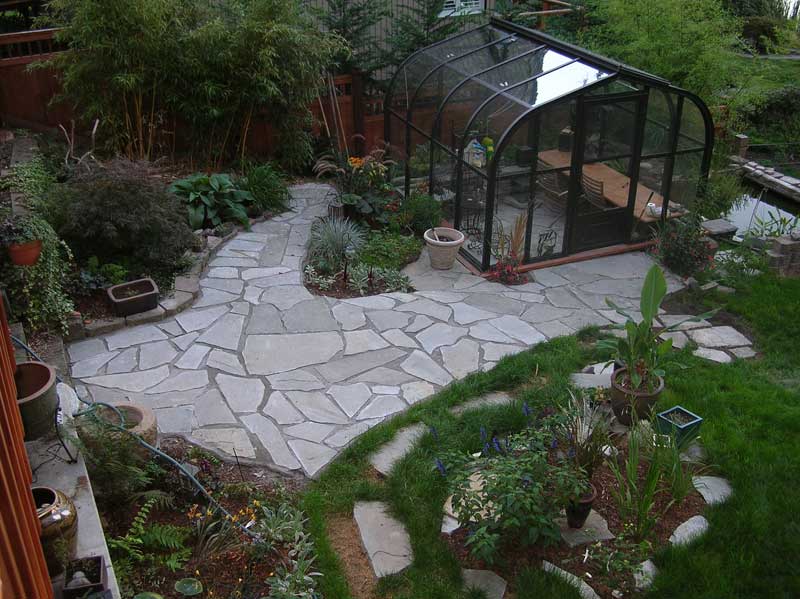 ---
Sent: Thursday, August 10, 2006 7:17 PM
Subject: Geneva Greenhouse-my complements
Bess Heiberger
Here are the photos that I want to share with you. I wanted to let you know how well the Geneva greenhouse is working for me. I have low E glass and the greenhouse is 8 ft by 13ft. I live in Ohio and have used the greenhouse since 2002 with no problems with any of the automatic vent or exhaust fans. Even better is the results with my plants that I over winter. I collect tropical plants, orchids and fancy leaf begonias. Many of the tropicals continue to bloom during the winter—passion flowers, for example. My orchids are blooming better than ever. I use the greenhouse to set blossoms and then move them into the house for display. I also take cuttings of annuals such as coleus and grow them on for the next year. In March, I use the greenhouse to start cannas, dahlias, elephant ears and annual vines for planting out in May.
The staff at Florian has been great every time I contacted them. Buying a greenhouse on the internet has worked well!!
----- Original Message -----
From: "Bess Heiberger
Sent: Wednesday, August 02, 2006 11:31 AM
Subject: Geneva Greenhouse--my complements!
The greenhouse is also used to store house plants that need some time to
recover from low light in the house. I rotate plants to the greenhouse and
move them back to the house when they are healthy and beautiful again.
Thanks again,
Bess Heiberger
---
Dave, I just wanted you to know while it was fresh in my mind...that I was extremely pleased with everything. The package arrived exactly when promised. The kit seemed very intimidating at first, but was actually very well engineered and went together with very little effort. My neighbor helped me install it over the weekend, and being a contractor....he was very impressed with everything as well. We spent about 15 hours assembling and installing everything and could definately shave considerable time from that if we had to do it again. We only were stumped in one area - where the main outside gable frame attached to the upper frame...we needed to notch the upper "ridge" to make the installation work. That was it. I think an advanced crew would start at one end with everything and work to the other end as it would make the rubber installation easier by not having to crawl on the unit - we were able to lay on top of the roof and do it. Also bending the bars around the main frame was easy after we figured we could start at the top and "pre-form" them to fit under the eave and gutter. I also made myself a "tool" by cutting down a small 1"x1" board, and sharpening the end. It made it easy to force in the rubber gasket by tapping it with a rubber mallet. No big deal though. Very impressive kit that I would recommend to anyone.
Thanks again,
Mark Youngquist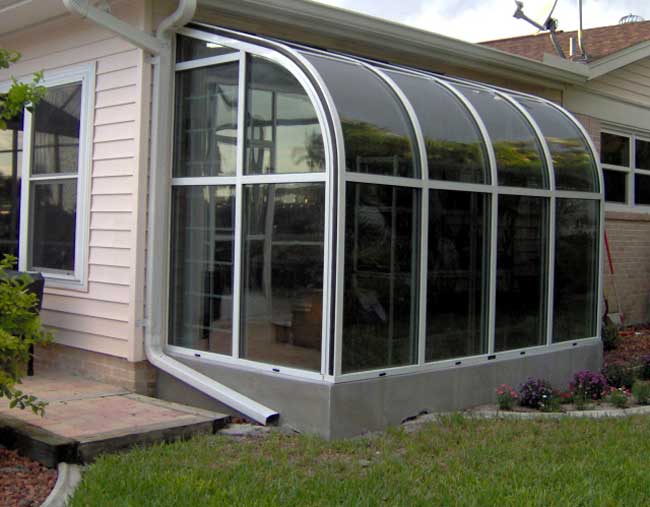 ---
Sent: Tuesday, January 03, 2006 9:40 AM
Joel,
With the bright sunshine over Christmas everyone that was here said how beautiful the room is. I do want to tell you what a great job the Arcadia GlassHouse LLC installers did. Paul and his team were outstanding. The weather was a little cool those two days and they were very considerate and concerned about the room. They stayed until the new windows were in place before leaving the first day, causing them to work into the dark. They are definitely a very courteous, conscientious and professional team of installers. I would not hesitate to give them a positive recommendation. Thank you at Florian and Arcadia GlassHouse.
Joyce
---
Well, well, well. It's been a long time. Don't mind if you use me as a reference. I produce about fifty to eighty flats of annuals each year out of my project. I love it. I found it was easier to heat it by moving the heated basement air into the greenhouse than using a heater. I do have an electric heater to augment if I need it. About the glass. I am happy that I used the triple glazed. It is so well insulated that the snow piles up on the roof with out melting even though the greenhouse is heated. If you send me an address to use I will send you a CD of photos of my project.
Glenn Peisker
---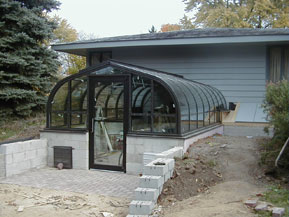 ---
We are extremely pleased with the Florian product. Even without the evap cooler on, the house is staying fairly cool. The special roof glass was well worth it, based on the temps so far!! Thanks again for all of your patience during this entire process. Without your guidance, we would not have been able to get such a great house!! We can't wait to fill it with plants. Yours truly, Renee Koschak
Follow Up
From: Renee Koschak
To: 'Joel Lombard : Florian Solar Products'
Sent: Tuesday, November 13, 2007 4:35 PM
Subject: RE: Florian Follow Up
Hi Joel - I have not downloaded my pictures yet and I promise to get you some new ones!! However, in the meantime, I realized I did not respond regarding using our name as a reference. We would be more than happy to provide a good reference for your product! We are extremely pleased with the final result! We did purchase the higher quality glass and in addition also purchased the UVA UVB glass roof. We have had great success with our plants and most of the greenhouse has not needed any additional shade screening. We also liked the idea that the glass roof with the protection allows a much "prettier" look to the outside of the greenhouse. (I was not too excited with the idea of shade cloth on the outside since this is part of our "outdoor living area" !). Also -- the better quality glass and roofing has had significant impact on the heat inside the greenhouse in the summer. Without any fans or evap cooler going, we average about 10 degrees cooler than the outside temp in the summer -- I think that is rather impressive. Obviously, the better glass also holds in our heat during the colder weather.
Kindest regards, Renee Koschak
---
---
Hi,
I saw on your web site that people had sent in pictures of their finished Florian greenhouse, so I wanted to send ours. Attached you will find a couple pics...we LOVE the greenhouse, especially living in Nebraska and during the winter being able to go out to the greenhouse and see all the green plants!
Sincerely,
Nancy Petta
---
---
Hi Dave
We've had three significant hurricane events since I finished the shell (Ivan @ about 120 mph, Dennis @ about 100 mph, and Katrina @ perhaps 60-70 mph). In each case I put plywood up on the south and east sides, and there was no damage. If the temp stays above 35 degrees outside, it will maintain 50 degrees or more inside, so our heat bill is minimal. We use a propane space heater for colder nights, until we get some natural gas-fired heaters installed as a permanent solution.
Best wishes,
Bill Drake
December 05, 2005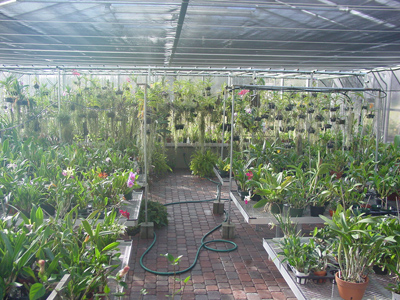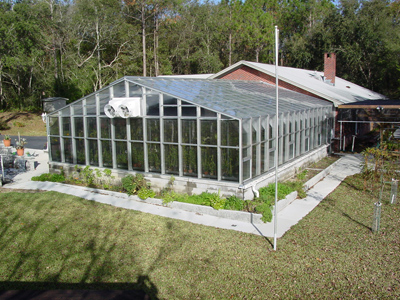 ---
Good morning, Joel:
"This is it, finally I have finished my project. Right before Christmas! Enclosed please find the pictures I took recently. Isn't it beautiful? My two daughters are enjoying the room so much. You can see one of them is playing Xbox in the room. Please share with Dan, Steve and John too.

Merry Christmas and Happy New Year to you all, Thanks very much for all you guys' help. Without your patience (to answer my stupid questions) and help my project would not have turned out like this. Thanks again,

Best regards,
Chi Chi
---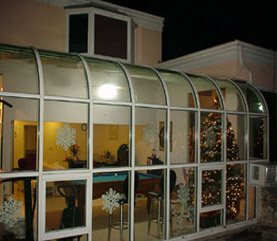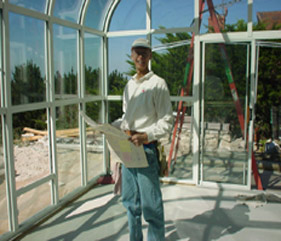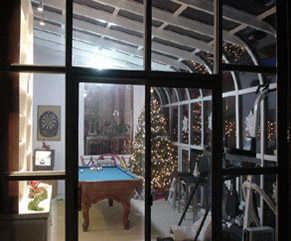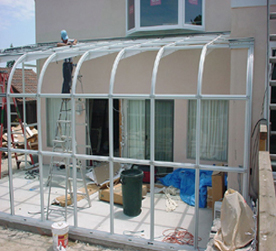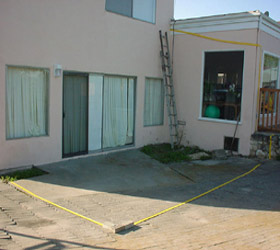 ---
Dear Brett

Thank you for providing such a beautiful Sunroom. Your crew was extremely clean and the attention to detail shows, We are so happy with the everything. I have dreamed of this room ever sence we built the house and could not be happier with our new solarium we spend all our time together in our new sun room. please feel free to call or stop by and we will recommend you to all. Thanks again. Debbie

Florian Greenhouses

Wapakoneta, Ohio
---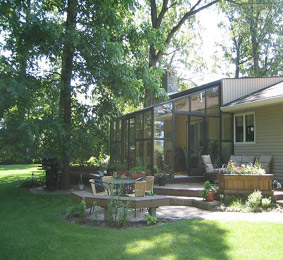 ---
Dear Joel
In 2002 we lost our home to a major flood. Because of the high probability of future flooding we have not moved back into the home. We are in the process of salvaging what we can from the lower level and using the materials to add on to our cabin at the lake...which is now our retirement home. We had put in our Florian Sierra sun room about ten to fifteen years ago and enjoyed it so much, especially during the cold winter months up here in Northwestern Ontario. It was a great place to sit and unwind midst all my plants when I got home from work. We wish to dismantle it and incorporate it into our addition at the lake where it would be great off our dining room, overlooking the lake. As I explained to Joel, we can't remember all the steps we did to put it up originally and the installation manual was lost in the flood. I thank you at Florian for being so helpful in getting us the information we need to be able to enjoy our sun room again.

Sincerely,
Heather Schmutzer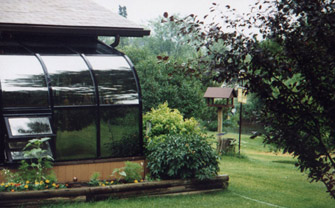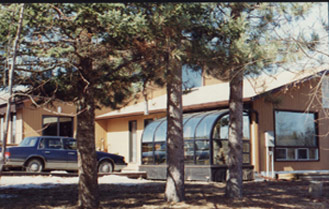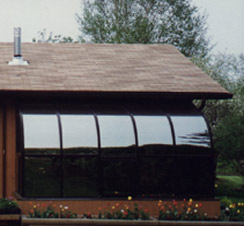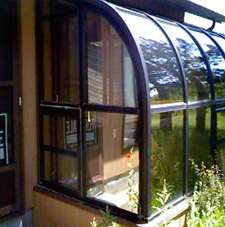 Read More Reviews Here - Page 2
Home - Sierra Room Sun room - Geneva Greenhouse and plant growing - Woodhaven Solarium - Monarch Conservatory - Commercial Sales
If you have questions reguarding your greenhouse construction call our tech support line FOR INSTALLATION ASSISTANCE PLEASE CALL (678) 482-8611. If you have a greenhouse or plant growing question please call (800)-356-7426. We would like to thank all our customers for their kind words and thoughtful letters. All greenhouse reviews come straight from our customers and are not edited in any way. Florian is proud of all greenhouse reviews and we stand behind our products.
---