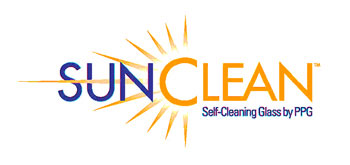 ---
Also avialable with your Florian unit is Sunclean glass which when activated by exposure to sunlight, the coating on SunClean glass becomes photocatalytic and hydrophilic, which makes it self-cleaning because:
Photocatalysis enables the coating to gradually decompose organic material as it is exposed to sunlight.

Hydrophilicity causes water drops to flatten and spread out when hitting the coated glass surface, producing a thin sheet of running water that rinses away loosened organic material and enables the glass to dry quickly and evenly with minimal spotting and streaking. (Hydrophilic surfaces are the opposite of hydrophobic surfaces, which cause water to bead as on the surface of a freshly waxed car.)


In addition to being photocatalytic and hydrophilic, the TiO2 coating on SunClean glass is extremely durable. Because the coating bonds to glass while it is molten, tests show that SunClean glass retains its hydrophilic properties even after prolonged exposure to rain, sunlight, salt and environmental hazards.
---
The photo ab illustrates th heeting effect SunClean glass (right) compared to conventional glass (lef
---
Home - Sierra Room Sunroom - Geneva Greenhouse - Woodhaven Solarium - Monarch Conservatory - Commercial Sales